A delightfully jaunty visitor has alighted for a long-term visit at the Getty Center: François-Henri, Duke of Harcourt (1726–1802), in a portrait by Fragonard.
Dashing in sea-green velvet, with a white ruff and red cape, the duke holds a feathered hat at his hip and gently lifts a gold necklace created with just a few brushstrokes. He looks delightfully pleased with himself—and why not? Scion of one of France's elite families, he was variously governor of Normandy, guardian of the future Louis XVI, member of the Académie Française, and Louis XVIII's ambassador to England. And judging from the portrait (if not, perhaps, the ponderous ode to Richelieu he delivered as his acceptance speech at the Académie), he had a pretty good sense of humor.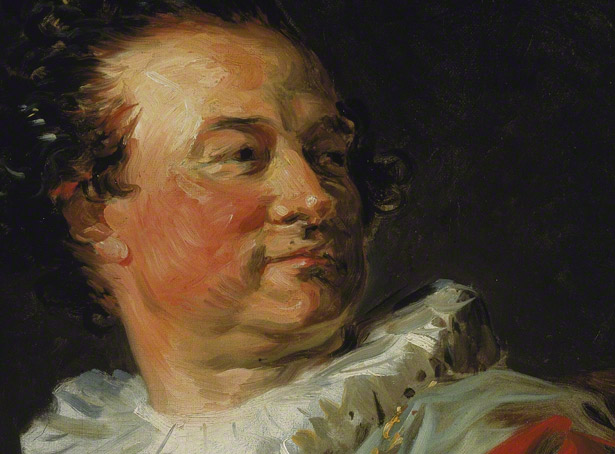 Dark in color but radiant in spirit, this painting is one of about 15 "fantasy portraits" by Fragonard, three-quarter-length studies that took him, incredibly, as little as an hour each. Set against plain backgrounds, the paintings show off Fragonard's knack for bending oil paint to his will, both in the faces and the swaths of luxurious textures—just look at this overstuffed velvet pillow, this ruddy skin and walruslike beard, and these fashionably crinkly ribbons.
We don't know the identities of most of the sitters in Fragonard's fantasy portraits, which makes François-Henri, and the pendant depicting his younger (and less smiling) brother,  a particularly interesting example from the series.
The loan is being installed this morning in the Getty Center's South Pavilion (Gallery S201) alongside the Museum's own painting by Fragonard, The Fountain of Love. In the spring our permanent holdings of Fragonard also grew with the arrival of the ink-wash drawing Les Beignets, which joined an erotic sketch and a picturesque view of Italian ruins.
By the way, this isn't the first time a Fragonard fantasy portrait has stayed a spell at the Getty Center. The Warrior visited from the Clark Art Institute four years ago, providing a stern counterpoint to the passionate abandon in the exhibition Consuming Passion: Fragonard's Allegories of Love.