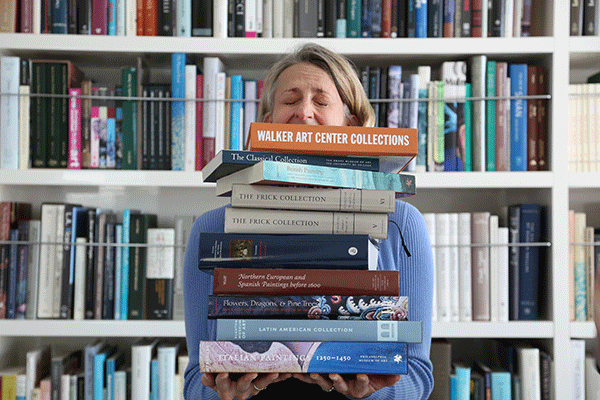 Throughout 2013, the Getty community participated in a rotation-curation experiment using the Getty Iris, Twitter, and Facebook. Each week a new staff member took the helm of our social media to chat with you directly and share a passion for a specific topic—from museum education to Renaissance art to web development. Getty Voices concluded in February 2014.—Ed.
The future is now. This phrase keeps running through my mind whenever I think about the Online Scholarly Catalogue Initiative—or OSCI, as we have affectionately come to know it. I am a senior program officer in the Getty Foundation, and I oversee OSCI and our other grant initiatives in art history and museums.
OSCI was developed to help museums transition to online publishing for collection catalogues. Why collections catalogues? Because almost all museums produce them, yet they have serious limitations. Catalogues become quickly outdated any time a new work is acquired or new research is discovered, and the space constraints of print often limit how much information a curator or conservator can include.
When digital publishing began to take off, museums sensed game-changing opportunities to transform the collections catalogue: creating a dynamic system to quickly add updates, including multimedia content, and developing interactive image features such as zooming or X-ray filters, to name just a few.
But the way forward was not entirely clear—a number of important intellectual and technical challenges were facing the field. This is when OSCI took shape as an initiative to help focus museums' various efforts. It has now coalesced as a group of nine museums working together to find solutions to the thorny problem of presenting collections-based research in the online environment:  the Art Institute of Chicago; the J. Paul Getty Museum; the Los Angeles County Museum of Art; the National Gallery of Art, Washington, D.C.; the San Francisco Museum of Modern Art; Seattle Art Museum; the Arthur M. Sackler Gallery and Freer Gallery of Art, the Smithsonian's Museums of Asian Art; Tate; and the Walker Art Center.
When the initiative began in 2009, the day when OSCI museums might launch their online catalogues seemed far off. Tablet computers were not even in wide use. Now, it's hard to open up a magazine, turn on the TV, or even drive down the street without seeing an ad for the latest smartphone or iPad. Audiences have come to expect that museums will deliver content digitally, in easily accessible and dynamic formats. And now, right in step with today's digitally savvy audiences, OSCI's day has come.
In November 2011, the Art Institute of Chicago launched a preview of its online collection catalogues for the works of Claude Monet and Auguste Renoir. Six months later, Tate released its online publication The Camden Town Group in Context. The San Francisco Museum of Modern Art is now launching its Rauschenberg Research Project, and several more OSCI publications will go live later this year.
So what have we learned along the way? When the initiative began, OSCI partners quickly realized that there was no silver bullet for digital publishing, no single solution that could be adopted by every museum, large or small. But it was clear that they could work together to develop a set of shared approaches. They also realized that much could be achieved if the bar could be set high, and it has been the Getty's charge to keep that goal front and center. To reach this goal, the Getty has organized periodic convenings for the OSCI partners, each marking important project milestones.
One key mile marker was the collective decision that the OSCI catalogues should be dynamic. This means that museums can easily add or remove content, create links, and include audio and video, and readers can tag or annotate content, and make their own collections. But this ruled out an easy solution to online publishing: simply turning an existing print publication into a PDF and posting it to a website.
The hard road taken has led to media-rich catalogues that are definitive resources for the field. Scholarly insights are now only a click away, and the OSCI museums' collections and research are now as global as the Internet.
Given that the digital revolution will continue to transform museums, the OSCI cohort has now made another critical decision. They realize that their catalogues are not one-off projects but rather catalysts for a broader digital strategy. This was the focus of the most recent OSCI convening organized by the Getty Foundation, where the conversation was led by Carolyn Pittis, independent change management consultant, and Erin Coburn, independent consultant to museums and the cultural heritage sector.
Why does a digital strategy matter, you might ask? Chad Coerver, chief content officer at SFMOMA and OSCI team member, offers a compelling response:
"Expanding digital engagement is an integral part of the museum's mission of making the art of our time a vital and meaningful part of public life. Our aim is to provide digital tools and experiences that bring the museum's collection to life in the eyes of visitors."
And OSCI is central to this vision of the 21st-century museum: open to the community, extending its reach far beyond its walls, and committed to preserving and interpreting art in the most advanced ways possible.
Google+ Hangout on Air with Anne, Liz Neely, Kyle Jaebker, and Nik Honeysett
Thursday, July 11, 10:30 a.m. PDT (1:30 p.m. EST)
Watch the archived Hangout
________________
Update, November 2013: Another new OSCI publication has gone live—LACMA's stunning Southeast Asian Art catalogue, focusing on 34 highlights from the museum's extraordinary collection of Southeast Asian art. Included are detailed entries, numerous high-resolution images, technical analyses related to conservation, and extended scholarly essays on such topics such as female deities in Cambodian and Indonesian art, and the impact of Buddhism on Sri Lankan and Southeast Asian art. Designed for scholarly audiences, this first of LACMA's planned online catalogues provides an in-depth, web-based reading experience that goes beyond a print publication. Features include videos, ways to rotate and enlarge images of select objects, and an easy online citation tool. Read LACMA's blog post and explore the catalogue!
Update, October 2013: The latest OSCI publication has just gone live—the Chinese Painting and Calligraphy collection at Seattle Art Museum! The new online catalogue contains a detailed assessment of all 152 objects, new photography, in-depth comparative research, and essays from experts. The works' inscriptions and seals, of critical historic and artistic significance, have also been fully translated, a feature rarely available in traditional print catalogues. The zoom function provides visitors with astonishing visual detail, and users can also create their own collections of favorite works, as well as add comments in a discussion thread. Since many of these scrolls are not regularly opened and on public view, the new online catalogue is providing unprecedented access to these works. Explore the catalogue here.
This post is part of the series
Getty Voices
, a yearlong experiment in rotation curation using the Iris, Twitter, and Facebook.
See all posts in this series »