From the early 1600s through the late 1700s, a golden age for frame making reigned in Paris, a story we tell in the exhibition Louis Style: French Frames, 1610–1792. Kings Louis XIII, XIV, XV, and XVI were trendsetters who expressed their personal style through interior furnishings—including frames.
The Getty's collection of French frames is extensive, and not every example could be included in the exhibition. In fact, marvelous French frames can be found throughout the galleries.
Step outside the exhibition and explore these 13 favorites.
East Pavilion, Gallery 202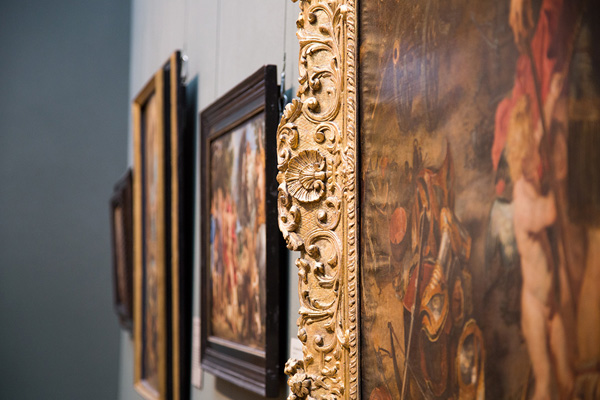 While this magnificent late Louis XIV or early Régence frame is almost 100 years later than the painting, its lively ornamental forms complement the brushwork. It features scrolling acanthus leaves and flower ornaments, with pronounced centers and corners. On this large scale, the frame's ornament enhances the drama of the scene. (Accession number: PA.330)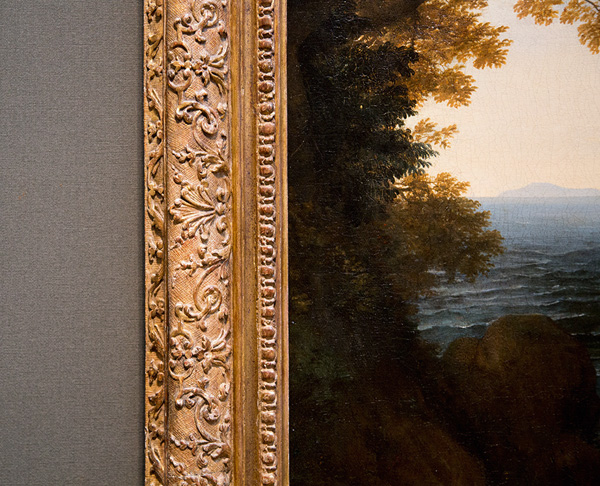 This Louis XIV frame features a ribbed sight (inner) molding, repeating fleur-de-lys (stylized lily), strapwork (intertwined bands) and acanthus leaf ornament, as well as pronounced scallop shells in the corners. It was selected specifically for this painting. The fleur-de-lys, symbol of French royalty, reinforces the painter's connections with France and patrons there, while the scallop shells appropriately correspond to the maritime subject of the painting—Europa, princess of Tyre, about to be carried across the sea by Jupiter to found the new continent of Europe. (Accession number: PA.291)
East Pavilion, Gallery 203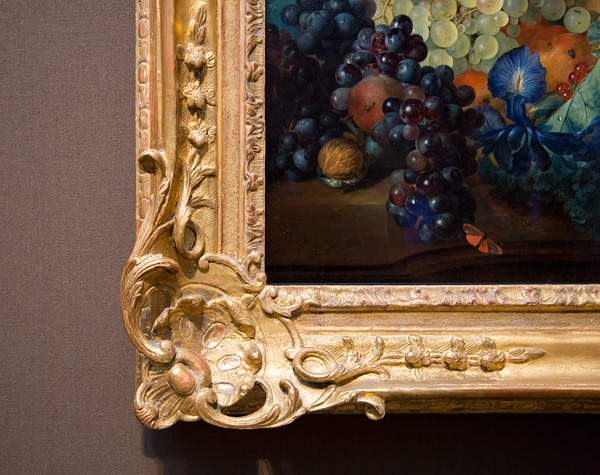 Both of these frames date from the Régence period, the years between Louis XIV's death in 1715 and Louis XV's accession to the throne in 1723. They have a sanded frieze and pierced and scrolling acanthus leaf corner ornaments with flower tendrils—decorations in keeping with the botanical subjects of the paintings. The sight molding—the raised design on the inside (sight) edge of the frame, closest to the painting—bears a leaf pattern. The frames were created as a pair, but the paintings were not. (Accession numbers: PA.148 and PA.149)
East Pavilion, Gallery 204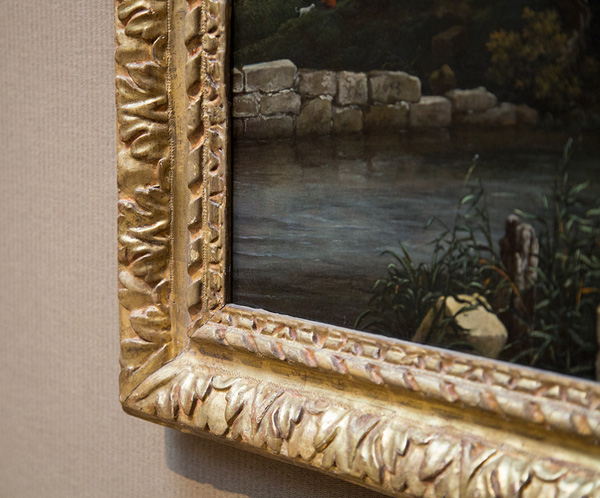 This frame was made during the reign of Louis XIII (1610–1643), when the first unified style for frames emerged in France. Louis XIII frames often feature motifs derived from the classical past and nature. This frame has sight molding (edge closest to the painting) in a ribbon pattern, with repeated acanthus leaf ornament. Its robust, yet restrained ornament was considered the ideal molding by French collectors of Dutch paintings in the 1700s. (Accession number: PA.312)
6. The Music Lesson, Gerard Ter Borch, about 1668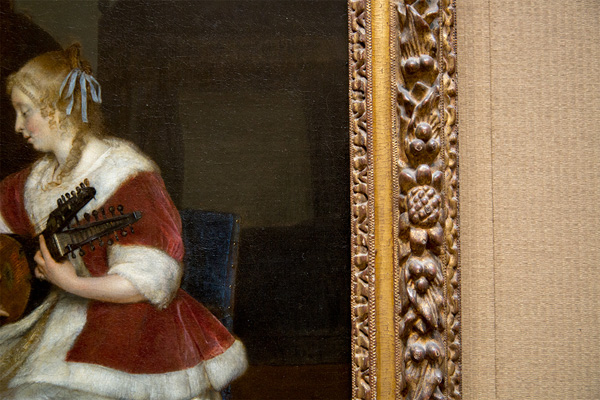 This Louis XIII frame is beautifully carved and features leaf and berry running ornament, punctuated by sunflowers, symbol of the French king. The delicate sight edge, which features a lamb's tongue pattern, complements ter Borch's refined brushwork. (Accession number: PA.561)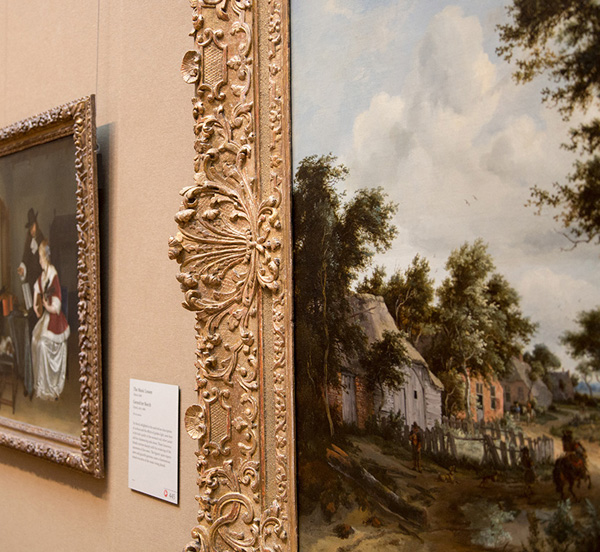 This superb Louis XIV frame has a full array of ornament: acanthus strapwork (intertwined bands) with scallop shell ornament; pronounced demi ornaments (on the rail, between the corners) and corner cartouches; a diaper pattern (small repeated diamond shapes), sanded flat with plumes; and original gilding. The ornamentation, as well as the beautiful warm color of the gilding, complements Hobbema's expressive textured handling of paint. (Accession number: PA.327)
South Pavilion, Gallery 202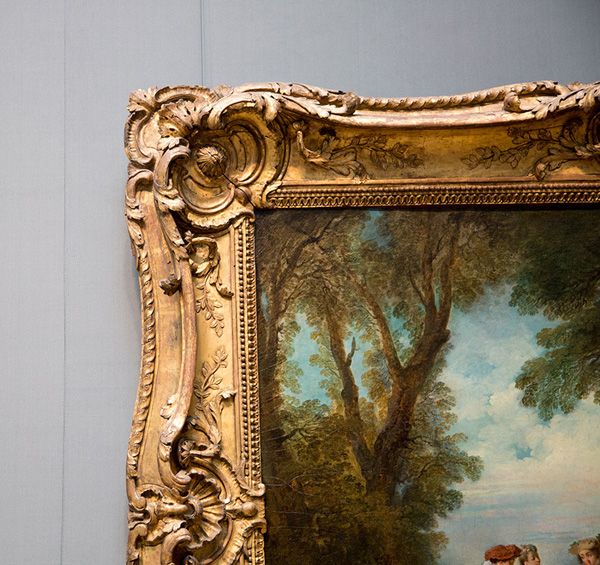 This Louis XIV frame is a beautiful example of a "swept rail" Rococo design, with a curved outer edge. It has a lamb's tongue pattern on the sight (inner) edge, and center and corner ornaments with pearl, leaf, and shell ornament. In form and detail it is the perfect counterpart to Lancret's swirling dancers. The frame is original to the painting. (Accession number: PA.194)
South Pavilion, Gallery 201
9. The Laundress, Jean-Baptiste Greuze, 1761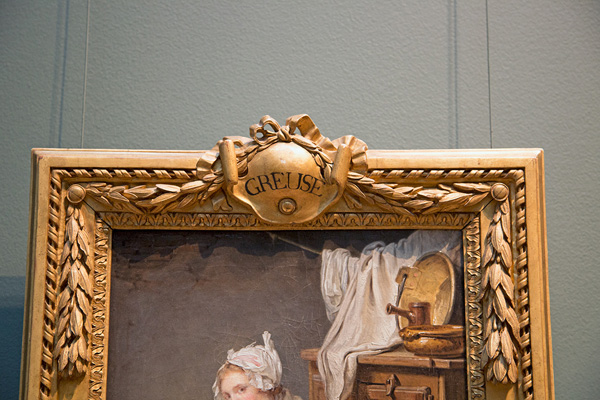 Dating to the reign of Louis XVI (1774 to 1792), this frame is original to the painting. It features a gilded architrave molding with a central cartouche (decorative enclosure) with the artist's name. Also notice the festoons in the shape of laurel leaves, the lamb's tongue sight (inner) edge, and ribbon twist ornament. (Accession number: PA.195)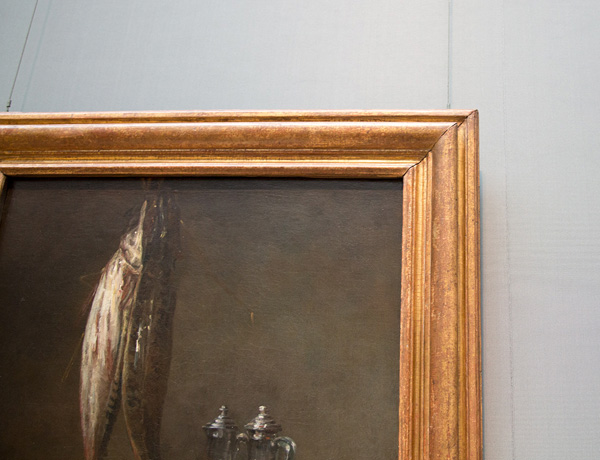 Chardin's spare, subdued still life is paired with an equally restrained frame dating from the reign of Louis XIV (1643 to 1715). (Accession no.: PA.309)
West Pavilion, Gallery 204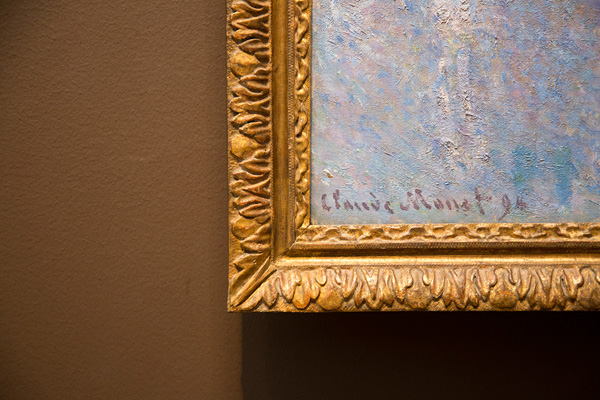 This Louis III frame is carved and gilded with laurel and acanthus leaf ornament. It is the style of frame used by Monet in 1895 to frame paintings in his series of Rouen Cathedral. (Accession number: PA.326)
South Pavilion, Gallery 104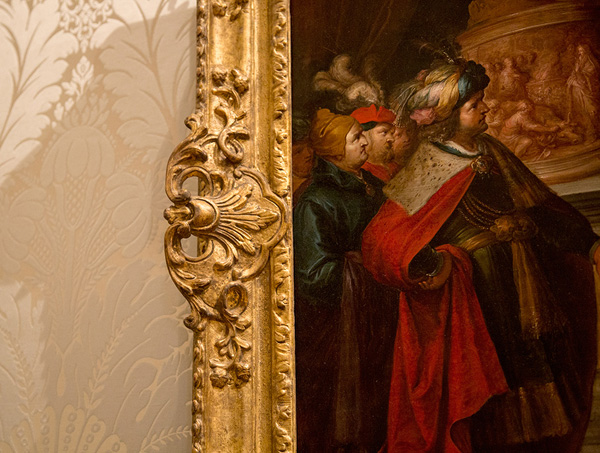 Likely dating to the late reign of Louis XIV or slightly after, this frame features center and corner ornaments, pierced shell and foliate corners, and a leaf sight edge. (Accession no.: PA.192)
South Pavilion, Gallery 112
13. Frame with Mirror, Paul (?) Georges, about 1775–80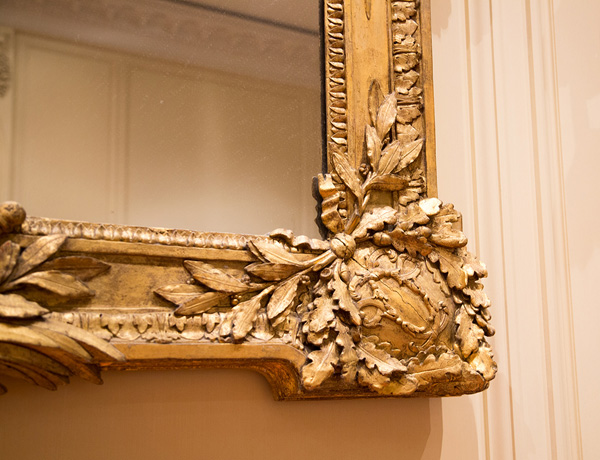 This nearly eight-foot-high frame has crossed L's in each corner. The three fleurs-de-lis (stylized lilies) at the top, surrounded by the arms of Saint Michael and Saint Esprit (Hope), and the attributes of war on either side are all royal emblems of France. Today, this splendid frame holds a modern piece of glass, but it once surrounded a portrait of the king. (Accession no.: 88.DA.49)