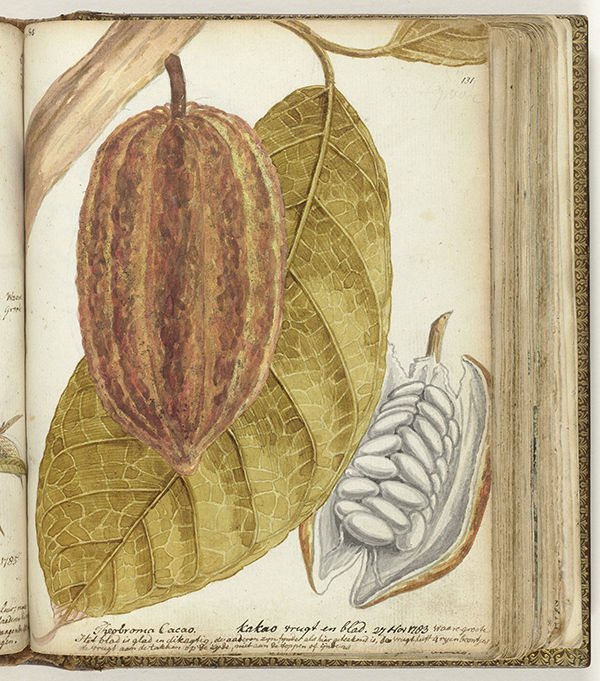 The magical substance: Cacao Fruit and Leaf, November 27, 1783, Jan Brandes. Graphite and wash on paper, 19.5 × 15.5 mm. Rijksmuseum, Amsterdam
Chocolate. The ultimate aphrodisiac. Once available only to priests and kings, today chocolate is  prized around the world for its delicious taste and its seductive effects—effects that have been appreciated for centuries.
A Brief History of the Craze for Chocolate
Theobroma, cocoa's botanical name, is Greek for "food of the gods." Native to Central and South America, chocolate was first consumed by Olmec, Maya, and Aztec priests and nobility as an unsweetened foamy drink. It was prepared with meticulous care using cocoa beans that were roasted, pounded in a mortar, and flavored with chiles, vanilla, annatto, and sometimes honey and dried flowers.
Europeans got their first taste of cocoa, it is said, when Aztec emperor Moctezuma—who drank 50 cups of chocolate a day from a gold goblet because he believed it made him more charming and attractive to women—met the Spanish conqueror Hernán Cortés and his army with a foaming cup of hot chocolate. Cocoa was introduced to Europe in the 16th century by Spanish conquistadors, and for centuries remained a drink exclusively consumed by the aristocracy and the upper bourgeoisie.
Hot chocolate became the rage at Versailles in the 1600s when Maria-Thérèse, Louis XIV's Spanish-born wife, popularized its consumption by drinking the exotic brew from delicate porcelain cups at breakfast time. Drinking chocolate provided yet another way to display wealth, elegance, and style, both through the decorative porcelain wares used to serve it and through the delicate art of sipping. In the following century, Louis XV was considered the greatest lover of the foamy drink and would occasionally prepare his own beverage in the kitchens of his private apartments. His mistress, Madame du Barry, particularly valued it for its qualities as an aphrodisiac.
Marie-Antoinette also enjoyed the hot drink, too—so much, in fact, that when she married Louis XVI in 1770 she arrived at Versailles with her very own master chocolate maker who was given the title of "Chocolate Maker to the Queen." She began each day with a cup of chocolate with whipped cream and orange blossom.
Luckily for us, chocolate eventually reached the masses. It was first used for baking in the 18th century, and by the 19th it had become accessible to all thanks to manufacturing innovations by the Dutch, Swiss, and English, most notably John Cadbury and Henri Nestlé.
RECIPE: Double-Sexy Chocolate Cake
Why does chocolate make us feel good? It packs several stimulants, including caffeine, theobromine, and phenylethylamine, chemicals thought to arouse the body and the emotions. Of course, there's also an aphrodisiac effect to receiving a delicious heart-shaped box of chocolates—or even better, a homemade cake!
This recipe includes avocado, another food with reputed aphrodisiac qualities native to Mexico. Referred to by the Aztecs as ahuacatl, or testicle, because of its shape and appearance, it is filled with nutrients essential for sexual health, including betacarotene, magnesium, and vitamin E. It's the perfect sweet and sexy ending to any meal, especially on Valentine's Day.
Plus, the cake (minus the ganache) is a vegan treat, proving that chocolate really can be enjoyed by everyone!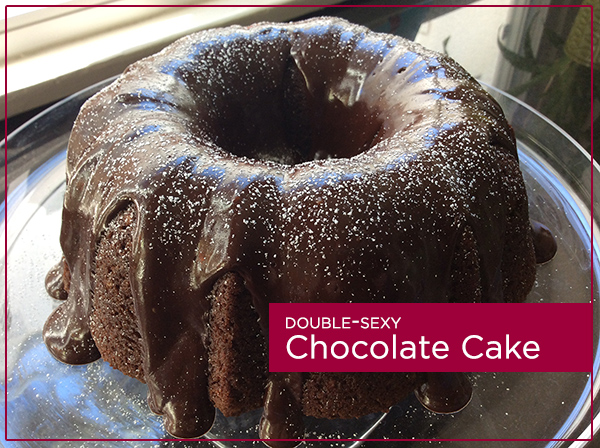 Double-Sexy Chocolate Avocado Cake with Ganache

For the cake:
6 ounces bittersweet chocolate chips
4 tablespoons cocoa powder
2½ cups all-purpose flour
½ cup almond flour
2 teaspoons ground cinnamon
½ teaspoon salt
2 teaspoons baking soda
2 teaspoons baking powder
¼ cup avocado oil
2 cups water
2 tablespoons white vinegar
2 teaspoons vanilla extract
1 large ripe avocado, cut lengthwise, pitted and mashed
1 cup granulated sugar
1 cup brown sugar
For the ganache:
1 cup heavy cream
1 tablespoon vanilla extract
12 ounces bittersweet chocolate chips
Preheat oven to 350º F. Line a 10-inch Bundt pan with avocado oil and dust with flour, tapping out any excess.
Place the chocolate chips and cocoa powder in a glass or stainless steel bowl over a double boiler. Stir gently until melted and combined. Remove from heat. (You can also melt the chocolate by placing it in the microwave for a few seconds at a time.)
In the bowl of an electric mixer fitted with a paddle, mix the all-purpose and almond flours, cinnamon, salt, baking soda, and baking powder at low speed.
In a separate bowl whisk the mashed avocado, avocado oil, water, vinegar, vanilla extract and both sugars.
Slowly incorporate the wet ingredients into the dry ingredients until just mixed. Add the chocolate and beat until fully incorporated.
Pour the batter into the prepared pan and bake in preheated oven for 45 minutes, until a toothpick inserted into center of cake comes out clean. Allow to cool.
While the cake is baking, prepare the chocolate ganache. Heat the heavy cream and vanilla extract in a small saucepan until it starts to simmer. (You can also heat it in the microwave.) Remove from heat, add the chocolate, and stir until melted and smooth.
When the cake cools, invert onto a platter and pour the warm ganache over it. Dust with powdered sugar and serve.
Makes one 10-inch Bundt cake.
_______
For more from Maite Gomez-Rejón, follow her blog on The Huffington Post.
Text of this post © Maite Gomez-Rejón. All rights reserved.