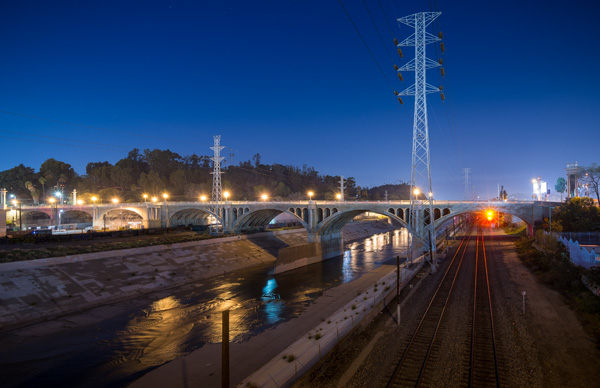 North Broadway-Buena Vista Street Bridge. Photo: Stephen Schafer Schafphoto.com
As the head of the City of Los Angeles's historic preservation program, I'm amazed that I still sometimes get puzzled questions from people who think L.A. has no past. "Historic preservation in Los Angeles? Do you really have anything historic to preserve?"
Yes, it's true that Los Angeles came of age later than most of its East Coast or international counterparts, but it's a city of remarkable history and architectural heritage.  And for anyone who's still somehow unconvinced, I now have a ready retort: HistoricPlacesLA, Los Angeles Historic Resources Inventory, launched today at HistoricPlacesLA.org.
Thanks to the leadership and generosity of the Getty, Los Angeles now has launched the most advanced cultural resource inventory management system in the United States.


What You'll Find on HistoricPlacesLA.org
HistoricPlacesLA.org contains tens of thousands of places of architectural, cultural, or social importance across Los Angeles—individual buildings as well as also parks, gardens, bridges, and streetscapes, along with information that connects them with the many stories of our city. It is free and easy to access online and is fully searchable by location and keyword.
We hope HistoricPlacesLA is useful whether you're a property owner, developer, researcher, or history buff. You can use it to find the interesting historic places in your own neighborhood, to probe L.A. history by theme or architectural style, or to delve into the history of specific buildings and other historic places.
Preserving L.A.'s Cultural Heritage
HistoricPlacesLA is also the first online information and management system specifically developed for the City of Los Angeles to map, inventory, and describe our significant cultural resources. For City government, HistoricPlacesLA gives us the tool we've long needed to use fuller knowledge of our built heritage to plan more effectively for our future.
The launch of HistoricPlacesLA.org today is the culmination of a multi-year partnership between the City and the Getty, including both the Getty Conservation Institute and Getty Foundation, to complete SurveyLA, the largest, most ambitious historic resources survey project in the nation.
SurveyLA has unfolded during a particularly difficult era in City government, rife with budget and staffing cutbacks. A project of this scope and ambition simply could not have occurred without the leadership of the Getty, which has given a tremendously enduring gift to its home city.
HistoricPlacesLA uses the Arches system—an open-source information platform built to inventory and ultimately protect cultural heritage places internationally, developed by the Getty and World Monuments Fund, and customized for Los Angeles. HistoricPlacesLA unites the Arches framework with the rich data collected for SurveyLA, along with information on thousands of designated historic resources in Los Angeles.
Fascinating Finds from HistoricPlacesLA
I've been asked, "Of everything you've found through SurveyLA, what was the most interesting or surprising?" That's almost impossible to answer, since there have been hundreds of fascinating finds so far, and what makes Los Angeles so compelling is the vastness and diversity of the city's historic resources.
A few years ago I began chronicling some of my favorites in our office's quarterly e-newsletters (see our collection of past newsletters here). Just a tiny sampling that stand out for me include:
The Crenshaw Seinan Historic District, 71 homes that were associated with the Japanese American community after World War II and still retain design and landscaping features evocative of Japanese design traditions.
The Weeks Poultry Colony, with several early West San Fernando Valley farmhouses from 1923 to 1934, reflecting what remains of a utopian agricultural community established in Winnetka by Charles Weeks.
The Boathouses, 12 identical single-family homes constructed in 1959 above the south side of the Cahuenga Pass, assisted by a team of Norwegian shipbuilders who used hand-axes rather than saws for cutting wood to achieve a hand-crafted look.
The Sugar Hill Historic District, A small West Adams neighborhood known for its association with the African American community and the movements to abolish deed restrictions that promoted racial segregation. In 1945, African American homeowners hired Loren Miller, a prominent civil rights attorney, and sued for their right to own homes in Sugar Hill, leading to a Supreme Court decision that such restrictions were unenforceable nationwide.
So, what will become some of your own most interesting finds—your HistoricPlacesLA? Start exploring today at HistoricPlacesLA.org, and let us know what you uncover!