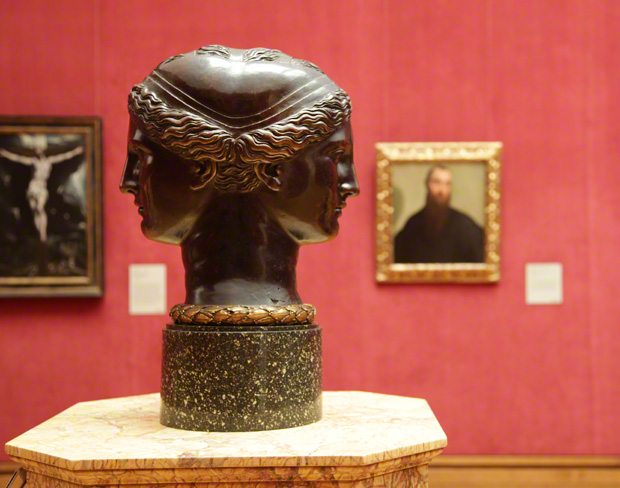 Forget about the Oscars, please. I'd like to shed light instead on their French equivalent: the Césars, whose 40th ceremony recently took place in the historic Théâtre du Châtelet in Paris.
Why? Because—as I recently discovered with great excitement—a bronze masterpiece from the Getty Museum's collection has a surprising star turn in one of this year's winners, the movie Yves Saint Laurent. The film received seven César nominations, and 25-year-old actor Pierre Niney, who portrayed the young Yves, was awarded the prestigious best actor César this past week.
Directed by Jalil Lespert, the movie plunges you into the life of famous French fashion designer Yves Saint Laurent (1936–2008), from his early triumph while working for Dior in the late '50s to the international consecration of his fashion house, Yves Saint Laurent YSL, in the mid-'70s.
Yves Saint Laurent was a true art lover, and many of his designs honored artists, including Henri Matisse, Vincent van Gogh, and Piet Mondrian. Some of his muses were actresses, such as Catherine Deneuve and style icon Talitha Pol Getty (none other than the second wife of J. Paul Getty).
In addition, Yves Saint Laurent and his partner, businessman Pierre Bergé, were avid art collectors, and their home in Paris was full of masterpieces. This passion for art is well evoked in Jalil Lespert's movie. Here's a still from the scene in which the Getty sculpture—via an exact reproduction created as a prop—becomes a movie star for a few seconds:
Can you recognize in this blurry still the magnificent double head in bronze attributed to Francesco Primaticcio that the Getty Museum acquired in 2011?
Pierre Bergé decided to sell their collection at auction in 2009, so the proceeds from the sale could benefit AIDS research and the Pierre Bergé-Yves Saint Laurent Foundation, which he created after the designer's death. This is why the bronze is no longer in Paris, but rather in Los Angeles.
This intriguing Double Head has what we call, in museum jargon, a prestigious "provenance history." Indeed, when it left the French royal castle of Fontainebleau, where it was displayed above the entrance to one of the gardens, it then passed through the hands of several other prestigious art collectors before entering the home of Yves Saint Laurent and Pierre Bergé. (By the way, did you know that the historic paths of many Getty objects are now accessible via our recently redesigned collection pages, under the "Provenance" tab?)
If curators were to organize a ceremony for artworks instead of movies, the beautiful Double Head might well get a trophy for Lifetime Achievement in the Field of Provenance!