In another episode of this week's Getty Voices, Our L.A., East L.A. native and documentarian Steve Saldivar reflects on a building that seemed to represent everything bleak about our city—but was anything but.
Its monstrous ugliness followed East Los Angeles like a storm cloud. At least, that's what I thought growing up. There it sat, quietly looming, as we Garfield High students spilled onto Whittier Boulevard each afternoon after final bell. The dilapidated building was a daily reminder of the disrepair our community seemed to be sliding into.
My mom once told me in passing that the building had been a lively theater. It was hard to believe. I was 18 and preoccupied with being an angsty teenager. The Golden Gate Theater, hollow and in disrepair, embodied the reason I wanted to leave Los Angeles. I was tired of East L.A. and all its moles. Nothing that big is ever benign. I wanted out.
I was also wrong.
The Golden Gate Theater, built in 1927, had in fact played a huge role in forming community in East Los Angeles. Like many theaters during the '20s and '30s, it played silent films and filled the gaps with organ and orchestra music. By the '60s, films shared the stage with live acts, rock concerts, and even amateur variety acts, according to the National Register of Historic Places. By the 1970s, many immigrants from Mexico called East L.A. home and the theater reflected the changes in demographic, showing films with Spanish subtitles. Later, it closed.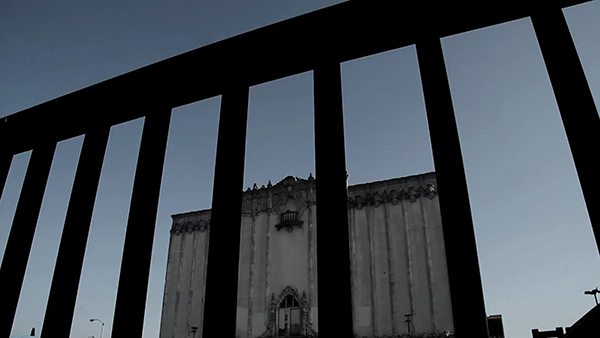 It opened to the public again just recently, in late 2012, in the form of a CVS Pharmacy. Its original architectural vision, capped by an entrance modeled on the portal of the University of Salamanca in Spain, has been modified by the mundane reality of automatic sliding glass doors. But while the building no longer serves its original purpose, it's found a second act with residents.
The Golden Gate Theatre is East L.A.'s Polaris. To the south, a small shop where I spent my weekly allowance on baseball cards; to the east, the Regency Theatres where I saw my first movie, Backdraft, in 1991. To the north, the Starbucks I never tell anyone I go to. I'm never lost.
The Churrigueresque detailing at its top seems its as pristine today as back in 1927. Maybe one day it will show films again. For now, you can find toothpaste on Aisle 7.