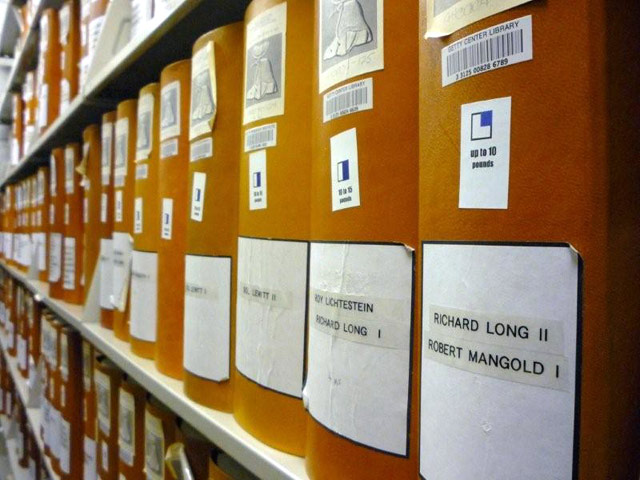 On April 24, Italian businessman and eminent contemporary art collector Count Giuseppe Panza di Biumo, whose papers are held at the Getty Research Institute (GRI), passed away at the age of 87 in Milan, Italy.
The first European collector of American contemporary art, Panza recognized early on the importance of abstract expressionist, pop, minimal, conceptual, environmental, and light and space art. Launching his collection with a Franz Kline painting purchased for $500 in 1956, Panza spent the rest of his life acquiring the work of young American artists in depth.
As reports on the famous collector's death have noted, Panza's patronage of postwar American art ultimately helped establish the collection and international reputation of L.A.'s Museum of Contemporary Art (MOCA), as well as contributing to the holdings of the Guggenheim, New York, the Hirshhorn Museum, and the San Francisco Museum of Modern Art (SFMOMA).
In 1984, a year after its opening, MOCA was the first art museum to acquire artworks from Panza (then a trustee), with 80 significant pieces entering the collection by figures including Franz Kline, Mark Rothko, Robert Rauschenberg, Roy Lichtenstein, James Rosenquist, George Segal, and Claes Oldenburg. In 1994, a second group from Panza was acquired: 70 works made between 1982 and 1993 by L.A. artists such as Peter Shelton and Robert Therrien.
Yet reports of Panza's death have not typically mentioned that, in 1994, the newly established Getty Center for the History of Art and the Humanities acquired Panza's massive personal archive. The Giuseppe Panza Papers—310 boxes, 58 rolls, and 3 flat file folders, now housed in the Getty Research Institute Special Collections—document his collecting activities from 1956 to 1990.
Included are correspondence with artists, gallerists, museum directors, curators, and cultural officials; artist files; ephemera from museums, galleries, and cultural institutions; clippings of articles on the collection; Panza's writings on art; documentation of his furniture, tapestry, and primitive art collections; and papers related to the MOCA acquisitions. There is also evidence of Panza's efforts to organize and design installations of his collection in museums and renovated villas and factories in Europe and the U.S.
The Papers' online finding aid interestingly notes that the archive was lovingly organized by members of Panza's family. From 1987 to 1989, his son Giovanni divided all the material according to artist and subject. Then, daughter Giuseppina Caccia Dominioni created files, matched photographs to each work, and put all the papers into folders and boxes. In 1990, Cristiana Caccia Dominioni and Panza's daughter-in-law Francesca Guicciardi Panza began helping Giuseppina, with Francesca double-checking the physical descriptions of the works in the collection. Finally, GRI cataloguer Lynda Bunting began physical processing and description of the archive in March 1994, finishing in May 1995. Leather boxes to house the collection were specially handmade by Legatoria Conti Borbone in Milan.
Over the years, Panza made frequent trips to L.A. to visit family, conduct research, and meet local artists in their studios. He was a regular visitor to the Getty Center, always checking in with GRI reference staff and the curators who came to know him. We would look forward to encountering his avuncular presence, often with an entourage of family members.
We will miss seeing Count Panza and talking to him about his incredible collection.