On April 29, 1956, The Los Angeles Times Home Magazine published a special feature on "Yucatan, Today and Yesterday." The section included articles by noted architecture critic Esther McCoy and photographs by Julius Shulman. Both McCoy and Shulman are best known for their work documenting and promoting the architecture of modern California in the pages of publications like Arts & Architecture, Architectural Forum, Sunset magazine, and The Los Angeles Times. Their words and images were critical in constructing a now-widespread imaginary of California as a land of the future, the site of pioneering projects in science, development, and living.
The 1956 Home Magazine feature on the Yucatan was part of a long and fruitful collaboration between critic and photographer. In addition to photographs from the ancient Maya site of Chichen Itza, Shulman's photographs for the issue document the Maya site of Uxmal, traditional pottery manufacture, colonial ornament, and Mexico's modern furniture industry. The Chichen Itza photographs represent an important departure from Shulman's famous documentation of sleek, modernist structures and interiors. However, they help to throw into relief some of the visual strategies and modern dispositions at work in Shulman's broader body of work and illustrate Mexico's anachronistic place within California's emergent modernity.
"Where is Yucatan? Yucatan is in Mexico, of course…." McCoy's introduction to the magazine feature orients readers in the "low jungle country" of the Yucatan. While in earlier accounts such invocations of the natural wild usually precede stories of grueling journeys, McCoy notes that the modern traveler can now explore the region with relative ease. This is thanks to convenient air travel, a "large number of English-speaking people," and "their friendliness toward travelers." What is in Yucatan to merit the trip, she asks? "The ruins of one of the oldest civilizations in the world and the earliest and finest architecture on our continent."
Shulman's photographs from Chichen Itza offer dramatic visual testimony to this remarkable ancient architecture. A large, stylistically diverse site described as "the single most powerful Maya city of all time," Chichen Itza has long attracted the interest of travelers, archaeologists, and the Mexican state. The scale of the site and the intruding nature that surrounds it constitute unique circumstances for Shulman's photography, as does its architecture of ruins in various states of decay. However, the images reflect Shulman's photographic language developed in conversation with modernist architecture and architects, manifesting techniques common in his better-known work: dramatic tonal contrasts, images framed by intruding foliage, architecture rendered as abstract form, and the creation of "diagonal thrust" through the space of the photograph through the use of asymmetrical perspective. These photographs do not amount to an attempt at "objective" photographic documentation of the site but instead reproduce a sense of the traveler's leisurely movement through ancient architectural space.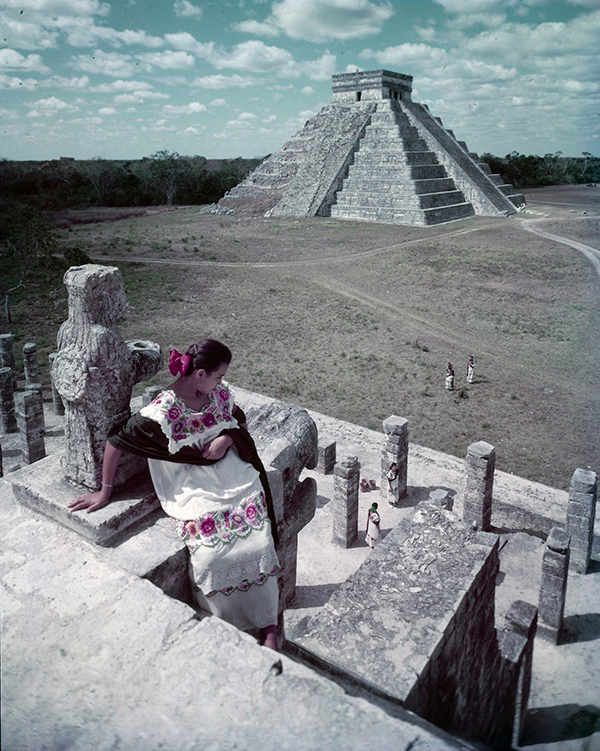 In addition to more traditional views of Chichen Itza's architectural features, a number of Shulman's photographs feature Maya women dressed in traditional trajes exhibiting handicrafts at the site or arranged in leisurely poses around prominent structures. While such depictions of indigenous subjects are a common trope in much photography in the region, these images also bring to mind other iconic Shulman photographs centered upon female figures at rest in modernist architectural space. The Maya woman overlooking Chichen Itza's Castillo shown above bears a remarkable resemblance to the female figure that grounds Shulman's famous image of Pierre Koenig's Case Study House #21, in both her posture and her relative placement within the frame. In these images, the female figure simultaneously creates depth, scale, and visual interest.
A second gathering of women populates another of Shulman's photographs at Chichen Itza, shown below. Here, Esther McCoy and two companions, likely the daughters of a wealthy local businessman tasked with showing the critic and photographer local attractions, gaze at one another and around the archaeological site with Chichen Itza's Caracol rising in the background. These women, with their bright, cropped clothing and their camera, communicate something quite different from the rigidly posed Maya women, reflecting a sense of glamour and the pleasures enjoyed by the modern traveler.
The two groups of women featured in these images do not meet in Shulman's photographs; indigenous bodies and the bodies of travelers never share the frame. In this respect, Shulman's approach to Chichen Itza reproduces a common isolation of the indigenous subject as an anachronistic object of display. The one clue that does link the two groups of women is a red hat, held by one of McCoy's companions in the photo above and also displayed among various crafts arranged in another series of photographs from the site, some of which feature Maya women exhibiting examples of local embroidery.
This bit of artesania points us to another motivation for modern Angelenos' journeys to Mexico. In addition to ancient architecture, Mexico was also a source for more mobile material culture that could be collected and displayed in the Californian home. McCoy marvels at the "centuries old" crafts made by these "happy people," offering descriptions and prices of hammocks, baskets, hats, and tortoise-shell combs. In an article on Ticul pottery manufactured near the archaeological site of Uxmal, she notes that such "handcrafted pots give an individual note to any California garden and are a constant reminder of the low jungle land from which they came." She recommends that visitors "buy a few, wrap them in a hammock for your porch and pack them in one of the sturdy pottery-colored baskets you'll find in the Merida market." These Mexican artifacts would then return to California, quite possibly to the very modernist homes that we so associate with Shulman and McCoy.
Shulman's photographs, painstakingly populated with objects and bodies, articulate a particularly modern vision of the archaeological site and the contemporary world that surrounds it. His photographic frame, the final product of practices of judgment, posing, placement, and erasure, simultaneously lends formal order to the architecture of the ancient archaeological zone and allows for the disciplined appearance of the most alluring elements of contemporary Mexico.
Many of the modernist structures that Shulman photographed serve a similar function, offering sparse, "neutral" spaces in which the carefully selected ancient artifact or piece of artesania could serve as a mark of distinction. The modernist photograph and home become technologies of what Bruno Latour terms the "maniacal conservation" of moderns: "they want to keep everything, date everything, because they think they have definitely broken with their past. The more they accumulate revolutions, the more they save; the more they capitalize, the more they put on display…"
This incorporation of Mexican material culture within modernist photographic and architectural space underlines the region's ultimate distance from California's modernity. Both the archaeological and the artisanal mark Mexico's anachronistic relation to the contemporary moment and further underscore the arrival of the future in California. This journey to Mexico demonstrates the power of the modern Californian lifestyle, one that Shulman helped create, to assimilate difference, reflecting the simultaneous aesthetic importance and political marginality of Mexico within this modern vision.
McCoy and Shulman's Yucatecan journey shows that the region is no longer a frontier to be discovered, conquered, and documented. Where is Yucatan? It is within reach, the enticing ground for itineraries of modern consumption and self-fashioning.
Further Reading
On Julius Shulman
Julius Shulman's Los Angeles, Christopher James Alexander. Los Angeles: Getty Publications, 2011.
A Constructed View: The Architectural Photography of Julius Shulman, Joseph Rosa. New York: Rizzoli, 1994.
Architecture and Its Photography, Julius Shulman. New York: Tashen, 1998.
"Oral history interview with Julius Shulman, 1990 January 12-February 3," Julius Shulman. Archives of American Art, Smithsonian Institution.
On Esther McCoy
Piecing Together Los Angeles: An Esther McCoy Reader, Susan Morgan, ed. Los Angeles: East of Borneo Books, 2012.
"Oral history interview with Esther McCoy, 1987 June 7–Nov. 14," Esther McCoy. Archives of American Art, Smithsonian Institution.
On Chichen Itza and the Maya
In the Museum of Maya Culture: Touring Chichen Itza, Quetzil E. Castañeda. Minneapolis: University of Minnesota Press, 1996.
Maya Art and Architecture, Mary Ellen Miller and Megan E. O'Neil. New York: Thames & Hudson, 2014.
On the Maya in Mid-Century California
Learning by Doing at the Farm: Craft, Science, and Counterculture in Modern California, Robert J. Kett and Anna Kryczka. Chicago: Soberscove Press, 2014.
The Maya of Modernism: Art, Architecture, and Film, Jesse Lerner. Albuquerque: University of New Mexico Press, 2011.
On Popular Depictions of Native Peoples and the Ancient Past
Past Presented: Archaeological Illustration and the Ancient Americas, Joanne Pillsbury, ed. Georgetown: Dumbarton Oaks, 2012.
Vision, Race, and Modernity: A Visual Economy of the Andean Image World, Deborah Poole. Princeton: Princeton University Press, 1997.
Reading National Geographic, Catherine A. Lutz and Jane L. Collins. Chicago: University of Chicago Press, 1993.