June 28th was an unusual Monday for me as an intern at the Getty Foundation. Instead of heading toward the Foundation offices as I would on a typical work day, I reported to the Harold M. Williams Auditorium at the Getty Center to check in for Arts Summit, a professional development day organized by the Foundation for participants in the Multicultural Undergraduate Internship (MUI) Program. This summer, the program involves 74 arts organizations throughout the Los Angeles area, with interns placed in all corners of the county, from Long Beach to Valencia, Santa Monica to Claremont, and even Catalina Island.
The event was exciting: 120 undergraduate interns had come together to learn about the different professions we could pursue in the visual arts. After getting acquainted with the Getty through guided tours, we had the opportunity to choose from 16 different career sessions with diverse professionals working in museums and arts non-profits. (Download a PDF describing all 16 sessions here.)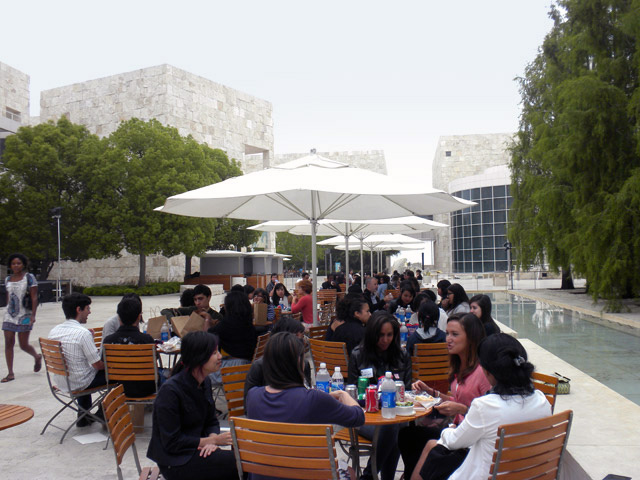 As an intern at the Foundation, one of my projects was to put together the program guide for Arts Summit. My behind-the-scenes work involved contacting the professionals who would be leading the discussions and organizing their bios and session descriptions, so it was fulfilling to meet the people I had learned so much about over the past few weeks.
One of the presenters was an alumnus of the intern program who now works for the Los Angeles Office of Historic Resources. He brought in maps and plans from some of his current projects, which involve historic landmarks throughout Los Angeles, and it was inspiring to think that one day my work as an intern could also lead to a career that truly contributes to the visual arts.
The most rewarding part of Arts Summit for me was seeing interns, supervisors, and professionals from the art world come together. Arts Summit provided my fellow interns and me, as well as the professionals and leaders involved in the program, a once-in-a-summer chance to interact, helping us realize our collective impact on in the Los Angeles arts community—both now and in the future.