The J. Paul Getty Trust is an extraordinary arts institution. That I knew before coming to work at the Getty this week as its president and CEO. What I didn't know—couldn't know until I became a full part of this organization—was the full extent of the Getty's programs and projects, and the remarkable expertise of its staff.
Meeting and learning about the work of my talented and enthusiastic new colleagues, from scholars to scientists, curators to educators, has been an exciting part of my first days here. So, too, has been my wife's and my return to California, which with our children we called home in the late 1980s when I directed the Grunwald Center for the Graphic Arts at UCLA.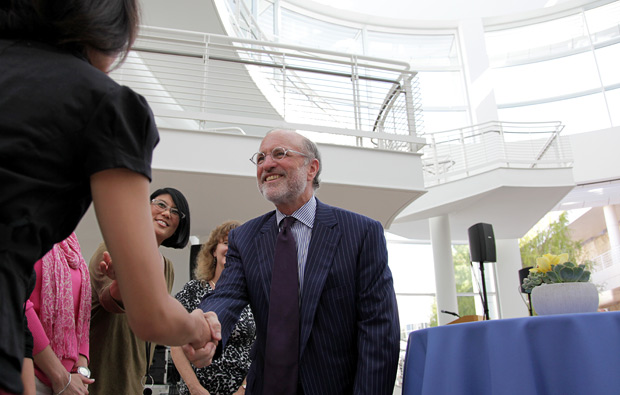 As I begin my work here, I've been reflecting on what makes the Getty unique. In part, it's our structure. The Getty comprises four active and ambitious programs—a Conservation Institute engaged in extensive, original scientific research, education, policy development, and documentation around the world; a Research Institute with one of the world's largest and best collections of books  and rare objects dedicated to the history of art, home to a raft of visiting scholars, and a source for the discovery of new knowledge; a Foundation supporting conservation practice, leadership, access to collections online and in print, and art history as a global discipline; and a Museum with two sites with extensive collections of the highest quality, interpreted for visitors in permanent collection galleries, exhibitions, public programs, and online. Enhancing all four programs is Getty Publications, which produces beautiful books of lasting value on the arts and humanities.
There is simply no institution like the Getty. It is not one of these things. It is all of them. The Getty's great promise is that, by leveraging the strengths of each program to the advantage of all, our experience and knowledge of the world's artistic legacy—and its preservation for generations to come—will be enhanced for the benefit of the world.
But even with our many international efforts, we're not just involved in the world beyond Los Angeles. We're deeply committed to the world of Los Angeles.
I've arrived here just as the finishing touches are being put on Pacific Standard Time, a decade-long investment by the Getty Foundation and Getty Research Institute in the documentation and presentation of works of art representative of Southern California's vibrant artistic culture from 1945 to 1980.
With Getty support, over nine months more than 60 museums and galleries, from Santa Barbara to San Diego and out to Palm Springs, will present exhibitions, performances, symposia, lectures, and publications that tell the story of Southern California's key role as an center of artistic production in the mid-20th century.
Even greater than the many exhibitions and events will be the archival record that my colleagues working on Pacific Standard Time have assembled. Materials long languishing in storerooms and cupboards have been preserved, cataloged, and rendered accessible in print and online. And oral histories of artists, collectors, and gallerists have been recorded for the archives (and many will be made available on the Getty's Pacific Standard Time website, launching August 31). A critical moment in the history of Southern California and of modern art, one in real danger of being lost, is being preserved.
Projects of this scope and ambition, which draw on the resources and expertise of all four programs, reflect the promise of the Getty.
I'm thrilled to have become part of the Getty team. As an art historian, I look forward to deepening my knowledge of the Getty's rich collections. As a scholar, I look forward to exploring the library and participating in rich intellectual exchange. And as a person, I look forward to getting to know my new colleagues and working with all of them to further our mission to make a difference in the world and in the lives of those who are touched by the arts.