Tights are back.
In mid-15th-century England, a law restricted the wearing of short tunics that revealed the male buttocks to members of the upper class. In works of art, men of this, um, standing are often depicted wearing what we would call tights or leggings (hose) beneath their skimpy tunics. In today's world, such tight-fitting leg garments were, until recently, reserved for ballet, the theater, Halloween, certain sporting events, and historical reenactment festivals.According to the "Tights Are Not Pants" manifesto, these aforementioned situations represent "historically acceptable acts of pantlessness." The manifesto was written in response to the recent surge in women choosing tights as an alternative to pants, even if barely covered by a flimsy top. The "gratuitous divulgence of assets" amounts to the fashion equivalent of TMI.
Just as some today are alarmed at these acts of pantlessness, so too were some living in the Middle Ages. One author from the 14th century considered thinly disguised buttocks to be a deformation for otherwise honest men, and a Parisian bishop from the same time period preached that this type of dress was utterly shameful. Historical examples of tights-as-pants are on view in Fashion in the Middle Ages, our exhibition of medieval manuscripts that closes this Sunday.
In fact, two manuscripts in the gallery show men garbed in short tunics with their round backsides in plain sight. The image shown here comes from a book recounting the intrepid adventures of Alexander the Great, but the artist has clothed the figures in courtly dress of the late 1400s. We've explored the other image here.
Did you spot the tights being worn by the brilliantly clad noblemen, who are actually supposed to be Alexander's soldiers? They look far too fancy to do any real fighting.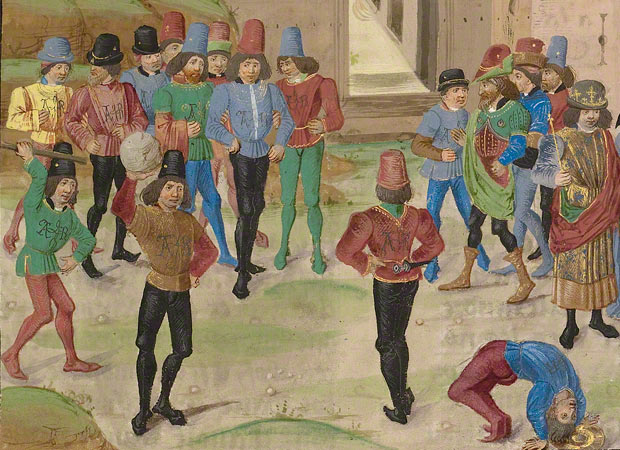 Where do you stand on this heated debate? At least, as Roger Wieck points out, we have been spared one other fashion oddity of medieval times: miniskirts for men. Will they be next?